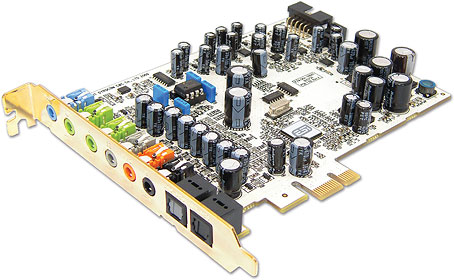 Prodigy X-Fi NRG is a powerful 7.1 channel, 24-bit / 96kHz capable PCIe based soundcard featuring the AKM AK4358 D/A Converter for playback signals with 112dB dynamic range. The combination with a fine selection of high quality condensers and a special circuit design provides perfect sound quality. The OpAmp on the card is installed on a socket, providing the possibility to change it to users preference.
The X-Fi chipset from Creative provides perfect 3D sound capability and excellent compatibility to all important 3D applications such as games and home theater playback software.
Featuring a professional headphone amplifier and digital input as well as digital output, Prodigy X-Fi NRG provides a lot more connection options than comparable soundcards.
Features
PCIe (PCI Express) soundcard interface
maximum 24-bit/96kHz analog input (combined microphone and line input with 1/8" connector)
maximum 24-bit/96kHz 7.1 channel analog output (1/8" connectors)
headphone output; 16 ~ 300 ohm impedance
maximum 24-bit/96kHz digital input with optical TOSlink connector
maximum 24-bit/96kHz digital output with optical TOSlink connector and internal 2-pin header, AC-3 pass through supported
internal Intel HD Front Panel Audio standard connector
AKM AK4358 112dB(a) DAC on 7.1 chanel output
AKM AK5358 102dB(a) ADC on analog input
opamp swappable, equipped by default with NE5532 opamp
DirectSound, MME, WDM, Open AL as well as EAX 1.0 / 2.0, EAX Advanced HD 3.0 / 4.0 supported
Windows 7 / Vista / XP compatible






Reviews and Testimonials
| | | | | |
| --- | --- | --- | --- | --- |
| | YouTube user Frostbitebampiru prepared an interesting video review of Prodigy X-Fi NRG - check the full video here! | | | |