MAYA22 USB
Flexible High Performance 24-bit USB Audio Interface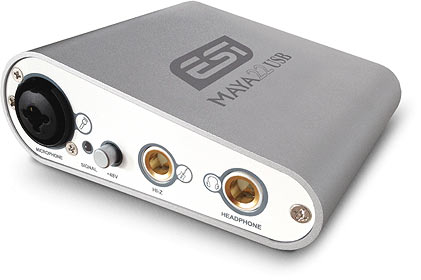 MAYA22 USB is not simply another USB audio interface - it's a very stylish portable device that can go with you anywhere. It offers total flexibility as an external and fully bus-powered USB device with excellent professional 24-bit audio quality.
It features 2 analog input and 2 analog output channels with RCA connection, a microphone preamplifier with XLR input and support for +48V phantom power, a Hi-Z instrument input for guitars, a high quality headphone output and TRS line outputs. This can make MAYA22 USB easily one of the most useful devices in your studio, wherever that may be.
Use it to record microphone and guitar signals simultaneously and then process the incoming signals with your PC or Mac notebook or desktop in realtime and listen to the mix directly via headphones or studio monitoring speakers. All these features are provided with a professional low latency drivers with support for WDM, ASIO 2.0 and CoreAudio.
If you're looking for a really powerful USB audio device that is small and that gives you maximum performance under any current Windows system as well as under Mac OS X, then MAYA22 USB is for you. It's incredible how many functions are provided by this small device!
| | |
| --- | --- |
| LEFT | RIGHT |
Features
2 input / 2 output 24-bit / 96kHz USB 2.0 Full Speed 24-bit Audio Interface
line, guitar and microphone inputs
simultaneous recording of microphone and guitar signals
microphone preamp with XLR input and +48V phantom power support
Hi-Z instrument input with 1/4" connector
line input with RCA connectors
line output with balanced 1/4" TRS connectors
headphone output with 1/4" connector
ADC with 102dB(a) dynamic range
DAC with 108dB(a) dynamic range
USB bus powered
supports Windows XP, Windows Vista, Windows 7, Windows 8.1, Windows 10 and Windows 11 with ASIO 2.0, MME, WDM and DirectSound incl. DirectWIRE support
realtime level meters in MAYA22 USB for Windows control panel software
supports Mac OS X (10.4 and above) via the native CoreAudio USB audio driver from Apple (no driver install required)
dimensions roughly 10.0cm x 10.5cm x 3.7cm












Bundled Software
In order to get you started right out of the box, MAYA22 USB ships with a powerful software package for professional recording, creation of your own songs, mixing of any audio content and much more. The following applications are currently included:
| | | | | |
| --- | --- | --- | --- | --- |
| | | | inTone 2 ESI Edition by Audified is a powerful jamming tool to produce mixes of multiple audio signals and instruments, play files, change tracks, prepare streams for podcasts and recordings. As an effects host you can use it with the included GK Amplification 2 LE and ampLion Free as a bass and guitar amp simulator and much more - anything you need for your creativity! | |
| | | | | |
| --- | --- | --- | --- | --- |
| | | | Cubasis LE is the compact version of Steinberg's mobile multitouch sequencer, providing the same look and feel of its bigger brother Cubasis. Specially designed for quick and easy operation, Cubasis LE makes recording, editing and mixing a breeze, no matter where you are, right there on an iPhone or iPad when connecting MAYA22 USB. | |
Our website always shows the latest information on what we currently ship with our products. Depending on the production date, it can sometimes be possible that a different software package is included with the MAYA22 USB at a local reseller. The actual content is mentioned on the retail box of the product itself. If you are unsure, please contact us.
Reviews and Testimonials
Here are selected reviews of MAYA22 USB:
| | | | | |
| --- | --- | --- | --- | --- |
| | Axel Ritt from Amazona.de checked out our MAYA22 USB and mentioned: "The ESI MAYA22 USB is an interface on the market that excels with good features and a low price." Read the fiull german language text here! | | | |
| | | | | |
| --- | --- | --- | --- | --- |
| | Felix Klostermann from online magazine Bonedo (Germany) checked our MAYA22 USB in detail and mentioned:"good audio quality" / "compact, sturdy design" / "very good price/value" - read the full german review here! | | | |
| | | | | |
| --- | --- | --- | --- | --- |
| | Marco Sulek of German online magazine Music & Stuff had a close look on our MAYA22 USB and liked it especially for mobile recording: "compact stable case" / "high compatibility" / "interesting concept" - check the full text here. | | | |
If you are interested in adding a review to this list, do not hesitate and
contact us
.
More about MAYA22 USB