eXtra 10
High Quality Monitoring Headphones with Modelling Software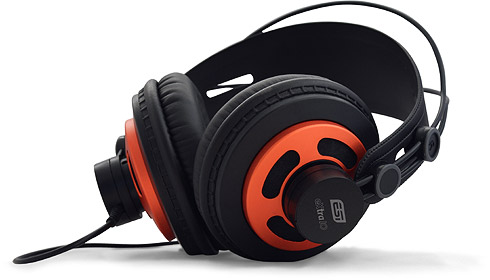 Our eXtra 10 are lightweight headphones, providing a clear and accurate reproduction for monitoring purposes in the studio.
Designed to adjust automatically to any head size and outfitted with extra durable and isolated ear pads, you will be surprised how comfortable our eXtra 10s are - especially when used for longer periods. Delivering a wide range with specially selected transducers, you will be able to listen to all the details of your mix across the whole frequency response.
Simply said, the eXtra 10s have been developed for musicians, providing truly high quality sound reproduction for use in any recording and monitoring environment.
And yet, there is more: every eXtra 10 includes a license of the special Realphones ESI Edition from dSONIQ, a special software that re-creates the acoustic environment of a recording studio control room. With the Realphones ESI Edition, your eXtra 10 will turn into a reliable monitoring tool for mixing tracks that you can trust. This makes eXtra 10 an extremely powerful solution for perfect mixing and monitoring.
eXtra 10 is available on its own as well as in our U22 XT cosMik Set studio recording bundle.
Features
dynamic studio quality on-the-ear monitoring headphones
50mm diameter neodymium drivers
impedance: 32ohm
sensitivity: 94dB SPL (1mW)
frequency response: 15Hz - 29kHz
max. power: 1200mW
cable length: about 2.5m
1/8" plug, gold plated screw-on adapter to 1/4" included
includes download license of Realphones ESI Edition from dSONIQ
Bundled Software
In order to get you started right out of the box, eXtra 10 ships with a powerful software package for professional recording, creation of your own songs, mixing of any audio content and much more. The following applications are currently included:
| | | | | |
| --- | --- | --- | --- | --- |
| | | | The Realphones ESI Edition by dSONIQ turns your ESI headphones into a reliable and professional mixing solution that you can fully trust. The standalone software and DAW plugin re-creates the acoustic environment of a recording studio control room. No matter if you travel a lot and need to be able to mix on the road or if you prefer headphones over studio monitor - with the Realphones ESI Edition you can trust your mixes even more. | |
Our website always shows the latest information on what we currently ship with our products. Depending on the production date, it can sometimes be possible that a different software package is included with the eXtra 10 at a local reseller. The actual content is mentioned on the retail box of the product itself. If you are unsure, please contact us.
Product Videos
Watch these product videos for eXtra 10:
More about eXtra 10