MoCo
Passive Monitor Controller with 2 stereo I/O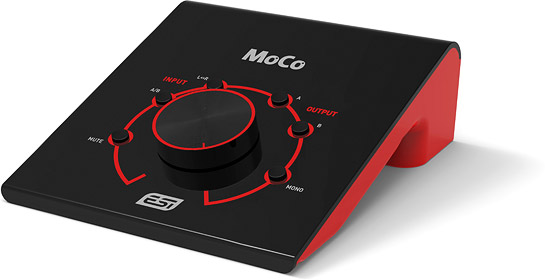 MoCo is a fully passive monitor controller that helps you to provide perfect control over the playback volume of your studio monitors.
"Fully passive" means that there are no active components involved, that could in any way alter the audio signal - keeping the maximum sound quality level for your studio monitors. MoCo provides two separate stereo inputs (one with balanced 1/4" TRS connectors, one with both unbalanced RCA and unbalanced 1/8" TRS connectors) and two separate stereo outputs (one with balanced XLR connectors, one with balanced / unbalanced 1/4" TRS plus unbalanced 1/8" TRS connectors). MoCo does not change your signals from unbalanced to balanced: what goes in, goes out!
Via one switch you can select the input signal and with separate buttons, each output can be enabled. Also there is a switch that changes the monitor signal to mono and you can mute the playback audio signal quickly at the touch of a button. A quick swap of the left and right audio signal channels is also possible. And of course, the stylish big knob in the center of MoCo controls the actual playback volume.
Features

2x mono balanced 1/4" TRS input (input A)
2x mono unbalanced RCA input (input B)
1x stereo unbalanced 1/8" mini jack input (input B)
2x mono balanced XLR output (output A)
2x mono balanced / unbalanced 1/4" TRS output (output B)
1x stereo unbalanced 1/8" mini jack output (output B)
selected high quality potentiometer for passive volume control
A/B input selection switch
L/R switch to swap left & right audio channels
independent A and B buttons to enable and disable the outputs
mono downmix button (mixes left to right channel and right to left channel)
mute button to mute output signal instantly

BACK
Reviews and Testimonials
Here are selected reviews of MoCo:
| | | | | |
| --- | --- | --- | --- | --- |
| | Mike Metlay checked out MoCo for the March 2018 issue of RECORDING (USA): "The MoCo is everything you need in a basic passive monitor controller for a very reasonable price." - you can read or download the full review as PDF here. | | | |
| | | | | |
| --- | --- | --- | --- | --- |
| | Felix Thoma of popular german magazine Amazona reviewed MoCo and concluded: "The workmanship is good and the forward tilted surface is practical. For this price range, MoCo is highly recommended (...)" - read the full german language review here! | | | |
| | | | | |
| --- | --- | --- | --- | --- |
| | Online magazine Buenas Ideas (German language) wrote a very long and detailed review with comments like "ergonomic design" and "flexible connectivity" of MoCo. You can read the full german language review here. | | | |
| | | | | |
| --- | --- | --- | --- | --- |
| | In issue 10/2017 of Beat you can find a review of MoCo: "Two in and outputs each with added different connectors from minijack to XLR hardly leave any wish unfulfilled, turning MoCo into a recomended alternative (...)" | | | |
If you are interested in adding a review to this list, do not hesitate and
contact us
.
More about MoCo