U24 XL
24-bit USB Audio Interface for PC & Mac with S/PDIF I/O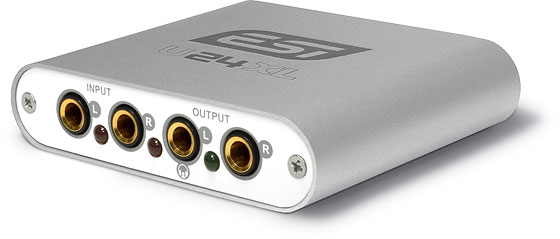 U24 XL continues our tradition to offer extremely small and portable audio devices with excellent high quality. With the legacy of our famous Waveterminal U24 in mind, U24 XL has been released just in time for the 10th anniversary of ESI product sales.
U24 XL is not only stylish, it is with dimensions of around 10 cm x 9 cm a device that can go with you anywhere. Offering total flexibility of an external USB device and pure digital quality, coupled with true high quality 24-bit support on the 2 analog input and 2 analog output channels provided via TRS connectors, U24 XL will easily qualify as the most useful device in your studio, wherever that may be. Even better, U24 XL also provides digital S/PDIF connections in both optical and coaxial format.
If you're looking for a really powerful USB audio device that is small and that gives you maximum performance under macOS / OS X as well as under any current Windows environment including Windows Vista, 7, 8, 10, 11, then U24 XL is for you.
Features

2 x analog input and 2 analog output channels (1/4" TRS connectors)
one output connector usable as headphone output
S/PDIF digital in and out available via optical (Toslink) and coaxial (RCA) connectors
24 Bit AD/DA converter
realtime input monitoring for incoming signals
drivers for Windows 11/10/8.1/8/7/Vista/XP with ASIO 2.0 support with low latency
Core Audio support under Mac OS X 10.4 and higher
dimensions: around 10 cm x 9 cm

FRONT

BACK













Bundled Software
In order to get you started right out of the box, U24 XL ships with a powerful software package for professional recording, creation of your own songs, mixing of any audio content and much more. The following applications are currently included:
| | | | | |
| --- | --- | --- | --- | --- |
| | | | Cubasis LE is the compact version of Steinberg's mobile multitouch sequencer, providing the same look and feel of its bigger brother Cubasis. Specially designed for quick and easy operation, Cubasis LE makes recording, editing and mixing a breeze, no matter where you are, right there on an iPhone or iPad when connecting U24 XL. | |
Our website always shows the latest information on what we currently ship with our products. Depending on the production date, it can sometimes be possible that a different software package is included with the U24 XL at a local reseller. The actual content is mentioned on the retail box of the product itself. If you are unsure, please contact us.
Reviews and Testimonials
Here are selected reviews of U24 XL:
| | | | | |
| --- | --- | --- | --- | --- |
| | The November 2008 issue of KEYS (Germany) features a detailed review of U24 XL by Martin Hirsch: "For a street price of less than 100 EUR with U24 XL you get a high quality audio interface with professional sound." | | | |
| | | | | |
| --- | --- | --- | --- | --- |
| | The December 2008 issue of MusicTech Magazine (UK) features a review of U24 XL. Here is a quote of the verdict: "A compact, well-made interface that doesn't scrimp on features." | | | |
| | | | | |
| --- | --- | --- | --- | --- |
| | iDJ (UK) checked our U24 XL in February 2009 - here is a quote: "The sound is excellent and I would certainly recommend the ESI U24 XL for its ease of use and simplicity in getting the job done." | | | |
If you are interested in adding a review to this list, do not hesitate and
contact us
.
More about U24 XL