ESU22
Multi-Purpose 24-bit USB Audio Interface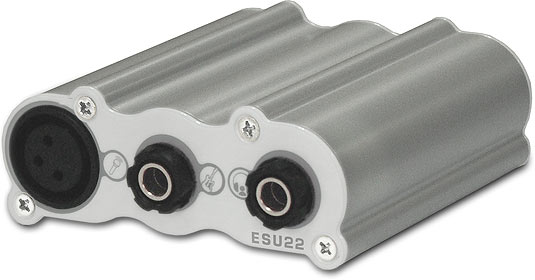 ESU22 is not simply another USB audio interface - it's a very stylish portable device that can go with you anywhere you go.
Offering total flexibility of an external and fully bus-powered USB device with pure pristine digital audio quality, coupled with true high quality 24-bit support on the 2 analog input and 2 analog output channels provided via RCA inputs, a microphone preamplifier with XLR input, a Hi-Z instrument input for guitars, a high quality headphone output and TRS line outputs, ESU22 will easily qualify as one of the most useful devices in your studio, wherever that may be.
This makes ESU22 an extremly versatile product that can be used in many different situations. You can use it to jam with a guitar or a microphone, process the incoming signals with your PC or Mac notebook or desktop in realtime and listen to the mix directly via headphones or studio monitoring speakers. In addition, ESU22 provides all important features of a professional recording interface. Using professional audio software, you can record your own tracks and mix them. You can use ESU22 to work on your audio projects at home, in any studio envrionment or on the road.
If you're looking for a really powerful USB audio device that is small and that gives you maximum performance under any current Windows system as well as under Mac OS X, then ESU22 is a device for you. It's incredible how many functions are provided by this small device!
ESU22 has been available as a limited edition only via selected retailers and not through our regular sales & distribution network.

Features

2 input / 2 output USB 2.0 24-bit Audio Interface
line, guitar and microphone inputs
line and headphone outputs
ESI 7012L controller chip
USB bus powered
supports Windows XP and Windows Vista/7 with ASIO 2.0, MME, WDM and DirectSound
supports Mac OS X (10.4 and above) via the native CoreAudio USB audio driver from Apple (no driver installation required)

FRONT

BACK









Reviews and Testimonials
Here are selected reviews of ESU22:
| | | | | |
| --- | --- | --- | --- | --- |
| | YouTube user F.E. Tutorials prepared an interesting german language video review of ESU22 - check the full informative video here! | | | |
If you are interested in adding a review to this list, do not hesitate and
contact us
.
More about ESU22