GIGAPort AG
8-out USB Audio Interface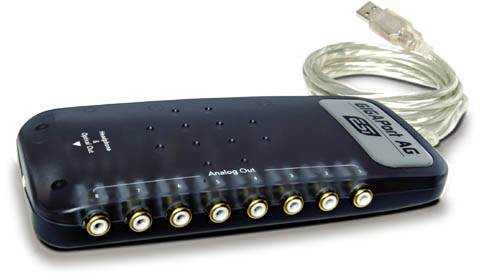 GIGAPort AG is the most versatile USB 8 channel soundcard for laptop audiophiles.
GIGAPort AG features professional quality Digital-to-Analog Converters (DAC) for high quality audio reproduction, an S/PDIF digital output to transfer digital audio files and provides full 7.1 surround sound support.
GIGAPort AG provides ASIO compatible drivers for best support with professional audio mixing and playback software.
GIGAPort AG is also perfect for digital DJs since DJ software can access GIGAPort AG's eight outputs as 4 independent stereo outputs, enabling DJs to mix, cue, add effects and gig to their liking.
GIGAPort AG has since been replaced by the new GIGAPORT HD+.
Features
supports up to 16-bit / 48kHz output
8 analog outputs
1 S/PDIF optical output
multi-streaming support
one headphone output with headphone amp
USB bus-powered operation
supports ASIO, GSIF, MME, DirectSound and Direct KS
Windows 7/Vista/XP/2000/ME/98SE and Mac OS 9/X compatible














More about GIGAPort AG