MAYA 1010
10-in / 10-out PCI Audio/MIDI Interface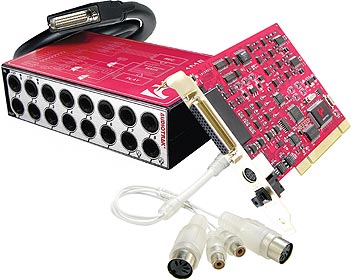 MAYA1010 is a unique PCI multimedia digital audio interface also with a breakout box. MAYA1010 provides many powerful functions that will satisfy both beginners and professionals looking for high quality digital audio solutions.
MAYA1010 best utilizes the VIA Envy24 (ICE1712), a versatile professional PCI multi-channel I/O controller, and provides stable performance and a full featured high performance solution. With an integrated 36-bit wide digital mixing power of ENVY24, MAYA1010 can meet the most demanding playback and recording requirements.
MAYA1010 supports up to 96 kHz sampling rate for digital recording using a extremely high quality ADC and DAC. Full 24 Bit/96 kHz bandwidth with full duplex operation is available over 10 simultaneous inputs and outputs. The MAYA1010 will prove its value in Multitrack Recording, Mastering or DVD Audio applications.
MAYA1010 provides two microphone inputs and headphone outputs with zero latency direct monitoring when you record. The two headphone outputs are equipped with high grade headphone amps and the microphone inputs provide +12 Volts phantom power.
MAYA1010 is a professional digital recording device for hard disk recording applications. MAYA1010 is fully compatible with multi-track recording software such as Sonar/Cakewalk, Cubase, Logic, and Nuendo; mastering software such as Sound Forge and Wave Lab; software sampler like GigaStudio, EXS, and Halion and most of Virtual Instruments such as Reason and Reaktor.
AUDIOTRAKs EWDM DRIVER - Broad Compatibility, Access to Professional Audio Tools: Current software driver technology limits audio cards to processing only the audio streams delivered from Microsoft's WDM driver to the audio hardware. AUDIOTRAKs engineers developed EWDM enhanced drivers that break the boundaries of the Microsoft WDM kernel's processing limitations. AUDIOTRAK's EWDM drivers leverage the power of today's CPUs to apply virtual sounds and effects in real time to audio streams - just like the pros do it - within the EWDM driver level.
DirectWIRE 3.0 is AUDIOTRAK's unique application that allows you to virtually patch all of your digital audio internally between various software programs. In this latest version, support for patching hardware inputs and mixing multiple audio streams at the inputs has been added. With EWDM, MAYA1010 can simplify the hassles of wiring externally for inter-driver/inter-application audio data transfer. Especially when you use software synthesizers or virtual instruments, DirectWIRE 3.0 will help simplify your setup.
MAYA1010 is no longer available and has since been replaced by the ESP1010, which is 100% driver compatible.
Features

3.3V and 5V compatible PCI card
10 input and 10 output channels
8 analog inputs, 2 with microphone preamp, 24bit/96kHz/107dB(a)
+12V phantom power support
8 analog outputs, 24bit/96kHz/112dB(a)
coaxial S/PDIF in and outputs
optical digital output on PCI card (Toslink)
2 headphone outputs
1 MIDI input, 1 MIDI output
support for DirectWIRE 3.0
independent monitoring control for analog and digital input signals and playback
integrated 20 channel digital mixer
EWDM driver: MME, DirectSound, ASIO 2.0 and GSIF 2.0 support
Windows XP/2000/2003/Vista/7/8/8.1 compatible

PRODUCT PACKAGE













More about MAYA1010