MAYA44
4-in/4-out PCI Audio Interface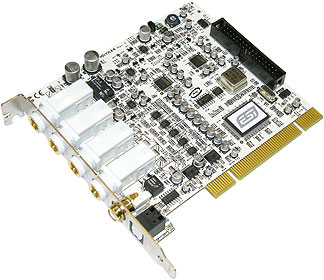 MAYA44 is a high quality 24-bit 96/192kHz 4-in / 4-out audio interface providing a number of powerful and amazing features optimized for home recording and for DJ applications.
The card can easily be used by home users making their first steps in computer audio as well as by professionals producing music on a budget.
MAYA44 provides 2 stereo analog line inputs, 2 stereo line outputs, a microphone input with +48V phantom power as well as an optical and coaxial S/PDIF output that can be used to pass through AC3/DTS signals. There is also a headphone output, perfectly for monitoring.
The optional MI/ODI/O extension provides a full MIDI interface (16 channels, 1 input & 1 output) as well as a digital input (optical and coaxial).
MAYA44 is no longer in production and has been replaced by the PCIe solution MAYA44 eX.
Features
Supports up to 24-bit / 192kHz output and 96kHz input
4 analog input and 4 analog output channels
4-in / 4-out full duplex recording and playback
balanced microphone input with +48V phantom power
headphone output with gain control
unbalanced stereo line input (1~2) can be switched to balanced mono microphone input
optical and coaxial (S/PDIF) digital output
optional MIDI I/O via MI/ODI/O extension
optional S/PDIF digital input via MI/ODI/O ext.
3.3V / 5V compatible PCI card
EWDM driver: MME, DirectSound, ASIO 2.0 and GSIF 2.0 support
Windows 10/8.1/8/7/Vista/XP/2000 and Mac OS X compatible













Reviews and Testimonials
Here are selected reviews of MAYA44:
| | | | | |
| --- | --- | --- | --- | --- |
| | Issue 8/2006 of Germany's Professional Audio magazine contained a long and detailed review of various PCI audio interfaces. Our MAYA44 did not only receive "very good" as verdict, it also was recomended as economy solution. Plus it appeared on the magazine title! Check the beginning of the review here. | | | |
If you are interested in adding a review to this list, do not hesitate and
contact us
.
More about MAYA44