MAYA EX5 CE
Innovative External 5.1 USB Surround Audio Solution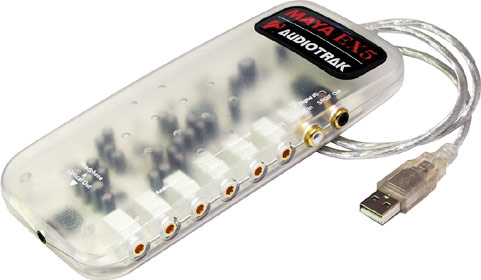 MAYA EX5 CE is a unique and powerful high fidelity audio interface with 5.1 surround sound capability for your notebook or desktop PC. This special Crystal Edition of MAYA EX5 is equipped with 6 output channels and 2 input channels along with digital S/PDIF in and outputs, microphone inputs and headphone output.
You can enjoy DVD movies on your notebook computer with 5.1 theatrical surround sound. Or you can listen to MP3s and other stereo music in a virtual surround sound environment with up to 5.1 channels of surround sound. MAYA EX5 CE is also a great companion for common DJ software applications.
Next to a special QSound surround engine that provides compatibility to EAX 1.0/2.0, A3D and DirectSound 3D, the hardware also allows the pass through of AC3, DTS and Dolby Digital data. There is even ASIO support available that allows the usage of MAYA EX5 CE together with professional audio applications.
The Crystal Edition of MAYA EX5 is the ideal portable audio solution for audiophiles, DVD enthusiasts, home musicians and DJs.
Features

full speed USB audio interface (USB 1.1 compatible)
2 channel analog line inputs, 3.5 mm jack, -10dBV unbalanced level
6 channel analog line outputs, 3.5 mm jack, -10dBV unbalanced level
microphone preamplifier, +40dB fixed gain, 10K ohm
headphone output, 3.5 mm mini phone jack, 60mW max. output
headset connector, 3.5 mm jack
nativly supported samplerate: 48kHz
resolution: 16-bit - digital I/O with coaxial input, coaxial output, mini optical output connector
digital I/O format: 16-bit, 48kHz, S/PDIF (IEC-958)
A/D converter: 91dB(a) dynamic range, frequency response: 20 Hz ~ 20 kHz, 18-bit resolution
D/A converter: 88dB(a) dynamic range, frequency response: 20 Hz ~ 20 kHz, 18-bit resolution
QSound driver engine supporting EAX1.0/2.0, A3D, Direct Sound 3D, QMSS, QExpander, QRumble, QSizzle, QEQ
MME/WDM/ASIO compatible driver engine
for Windows 2000/XP/2003

PACKAGE VIEW







More about MAYA EX5 CE