nEar04
Professional 4" Desktop Monitoring System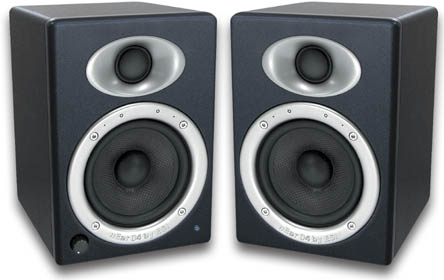 nEar04 is a high fidelity dual amplified bookshelf monitoring speaker system for desktop usage.
nEar04 is designed to overcome all the typical limitations of conventional small sized monitoring speakers providing a special 4" polypropylene curved woofer cone and a 1" natural silk dome tweeter.
nEar04 inherits professional monitor speaker quality from our famous and extremly successful nEar05 eXperience model. Despite the small size, they still provide reference level sound quality and enough power for audio monitoring in a digital audio production environment. For convenient and quick level control, one of the speakers provides a volume control knob on the front. Of course nEar04 are magnetically shielded.
Please note that nEar04 is out of production. If you are looking for a professional 4" Monitoring System, please check out our new uniK 04 system.
Features

4" polypropylene with damped rubber surround
1" silk high frequency driver
2 TRS balanced / unbalanced inputs
1 speaker with amplifier, 1 speaker passive
input sensitivity: 200 mV
input impedance: 20k Ohm balanced, 10k Ohm unbalanced
RF interference protection, output limiter
overheating protection
subsonic filter, power supply integrated (active side)
magnetically shielded for desktop operation
volume control on front (active side)
frequency response: 100Hz - 22kHz
crossover frequency: 4.1kHz
amplifier: 2x 20W
dimensions: 206mm (H) x 136mm (W) x 149mm (D)

BACK
More about nEar04