nEar06
70 Watt Bi-Amplified 6" Studio Reference Monitors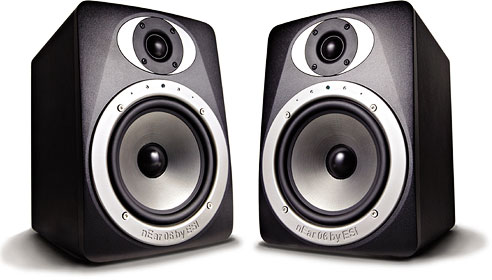 nEar06 is designed to generate near perfect sonic reproduction. nEar06 not only inherits the fine audio quality of nEar05, but also has very bright sound quality and provides a better frequency response in the low range in comparisson.
nEar06 offers stable and balanced low frequency response with defined mid to high frequency response. Both drivers are magnetically shielded for music production in computer envrionments. High current power amplifiers offer high sound pressure with very low non-linear distortion. nEar06 is an ideal solution for professional recording studios and home recording studios alike.
A perfect companion for nEar06 is our subwoofer SW10K.
Features

integral bi-amplified 70 Watt active near-field monitoring speaker
6" polypropylene curved cone low frequency driver
1" silk high frequency driver
1 balanced XLR input, 1 balanced/unbalaced 1/4" TRS input
input sensibility: 270 mV
input impedance: 20k Ohm symmetric, 10k Ohm unsymmetric
Protection : RF interference, output current limiting, over temperature, turn-on/off
frequency response: 55Hz - 20 kHz
crossover frequency: 2.7 kHz
low frequency amplifier: 40W
high frequency amplifier: 30W
blue power LED on the front
curved front panel shape to optimize acoustic characteristics
dimensions: 280mm (H) x 200mm (W) x 223mm (D)
weight: ca. 7.5 / speaker

BACK
More about nEar06