OPTOPlay
24-bit / 96 kHz USB Audio Interface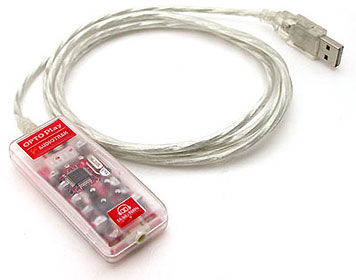 OPTOPlay gives you the choice of 2 analog outputs or 2 digital outputs via S/PDIF optical connection and supports 32 kHz, 44.1 kHz, 48 kHz, 64 kHz, 88.2 kHz, 96 kHz sample rates. OPTOPlay can also handle both 16 bits and 24 bits resolutions.
OPTOPlay is easy to use. Just plug OPTOPlay's USB connector into your computer and the other end into any analog or S/PDIF equipped device such as a recorder or mixer and you're set to go. The analog outputs also double as a headphone monitor.
To use with mini optical jacks, such as those found on portable mini disc recorders, simply snap the enclosed adapter into the TOS-Link plug of the cable.
Now, you can hear very clear sound from your Notebook or Desktop PC! OPTOPlay is Mac OS X compatible.
Features

Interface: USB Spec Ver1.1, USB Audio Class Spec Ver 1.0
Outputs: Analog & Digital Audio 2-channel output
Output Format: Analog Line or Headphone output, SPDIF Optical Output
Sample Rate: 32 kHz, 44.1 kHz, 48 kHz, 64 kHz, 88.2 kHz, 96 kHz
Resolution: 16 bits upto 24 bits
Analog Putput Level: 1.0 Vrms maximum
Headphone Amp Power: 50 mW Mmaximum
Power: USB Bus powered - 100 mA
Windows 98SE/ME/2000/XP & Mac OS X compatible

PRODUCT PACKAGE





More about OPTOPlay