PHONORAMA
USB Phono Preamp for professional vinyl & tape transfers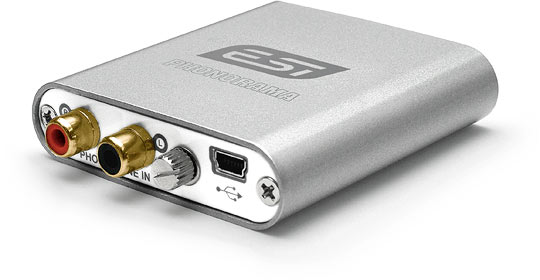 The stylish USB audio adapter allows you to record, transfer and edit your record and tape collection. Simply connect your turntable to the adjustable phono input and hook it up with a ground connection wire, and then start recording.
PHONORAMA easily connects to your tape deck or CD player (Line In) and to your turntable with either moving coil (MC) or moving magnet (MM) systems. It also easily connects to any modern PC or Mac computer system.
Features

2 analog input and 2 analog output channels
Phono Preamp (can be disabled and used as line input), supporting moving coil (MC) and moving magnet (MM) systems
ground connection for turn table
headphone out, can also be used as line output
1/4" stereo line output
bus powered over USB
drivers for Windows 8.1/8/7/Vista (32-/64-bit) and XP (32-bit) with ASIO 2.0 support
Core Audio support for Mac OS X
dimensions & size: 7cm x 6cm (approx.)

FRONT

BACK










Reviews and Testimonials
Here are selected reviews of PHONORAMA:
| | | | | |
| --- | --- | --- | --- | --- |
| | The German LP magazine testet PHONORAMA in their April 2012 issue: "The frequency response of PHONORAMA looks very neat." / "The results are more than decent, the process itself is simple and without problems." | | | |
| | | | | |
| --- | --- | --- | --- | --- |
| | Felix Thoma of popular german magazine Amazona reviewed PHONORAMA and here is a quote: "Considering it's price into the judgement (...), PHONORAMA performs really astonishing well." Read the full german language review here! | | | |
If you are interested in adding a review to this list, do not hesitate and
contact us
.
More about PHONORAMA