Prodigy HD2
High-End 192 kHz Reference HiFi Audio Interface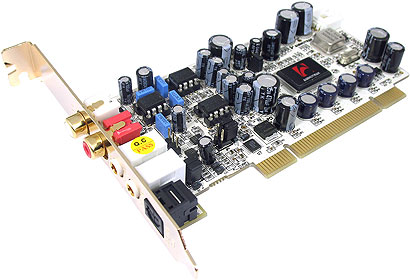 Prodigy HD2 shows the latest technology in high end audio playback for audiophile users.
Prodigy HD2 supports 192 kHz at 24-bit with a sensational dynamic range of 120dB(a) for playback - no other hardware in this price range provides this high level of output quality. Even better: the hardware is equipped with 3 OpAmps on sockets, this makes it possible to swap and exchange the OpAmps based on specific requirements.
Prodigy HD2 is a Low Profile PCI card, shipping with a metal bracket for a conventional PCI slot and with a bracket that allows the installation in Low Profile slots - this makes Prodigy HD2 perfect for media center and home theater solutions where small PC cases are used.
The included driver software is providing perfect compatibility (ASIO, GSIF, WDM) under all current Windows versions including Windows Vista 32-bit & 64-bit, offering high performance and low latency operation. DirectWIRE 3.0 support in the driver allows you to virtually patch your digital audio sources internally between different software applications running at the same time.
| | |
| --- | --- |
| PACKAGE VIEW | PACKAGE CONTENT |
Features
PCI audio interface based on VIA VT1721 (Envy24HT-S)
PCI card supplied with standard and low profile metal bracket
24 bit / 192kHz playback (analog & digital)
24 bit / 96kHz recording
high quality AKM AK4396 120dB(a) S/N ratio DA converter for extremly high quality 2 channel audio playback via RCA output connectors (5Hz - 40kHz frequency response)
triple OpAmp design for audio output with three high quality Fairchild NE5532 OpAmps on separate sockets (can be exchanged for tuning & customization)
headphone output with 1/8" connector routed via JRC4580 dual OpAmp
analog line input with 1/8" connector via AKM AK5353/7 102dB(a) S/N ratio AD converter (20Hz - 40kHz frequency response)
optical S/PDIF digital output following IEC-958C standard, can be used for stereo audio playback (PCM) and multichannel streams from such sources (AC-3 or DTS data)
EWDM driver for all current Windows Versions









More about Prodigy HD2