Waveterminal U24
24-bit USB Audio Interface for PC & Mac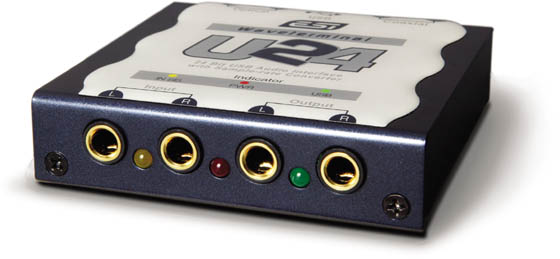 Looking for versatility? The U24 is the most 'bang for your buck' USB peripheral going. Use it to record or perform wherever your gig takes you. Offering total USB flexibility and pure digital quality, coupled with true 24-bit capabilities, the U24 will easily qualify as the most useful device in your studio, wherever that may be.
Coaxial, Optical, or Analog. The Waveterminal U24 gives you maximum input and output options. Need to convert your signal from one format to the other? You've come to the right place because that's what the U24 was designed to do, and do well. Coupled with its powerful real time sample rate conversion capability, the U24 makes for one indispensable peripheral.
If you're looking for a powerful USB audio device that gives you maximum performance on a Mac as well as in a Windows environment, then the Waveterminal U24 is for you. The U24 is perfectly compatible with Windows 98SE, ME, 2000, and XP as well as Windows Vista and Windows 7 or even Apple Sound Manager & Mac ASIO 2.0 under Mac OS 9 and CoreAudio for Mac OS X.
Features
2 x analog In/Out (1/4" - unbalanced)
output L usable as headphone output
S/PDIF-Digital In/Out coax & optical
24 Bit AD/DA converter
100 dB dynamic range (AD)
110 dB dynamic range (DA)
simultanous audio over analog- & SPDIF-out
internal digital-mixer 32, 44.1, 48kHz sampling rate
realtime sample rate converter
driver for Windows 7/Vista/XP/2000/ME/98SE with ASIO 2.0 support
driver for Mac OS 9.x with ASIO 2.0 support
Core Audio driver for Mac OS X
dimensions: 9 (B) x 9 (D) cm













More about Waveterminal U24