Waveterminal 192L
24-bit 96/192kHz Homerecording Audio Solution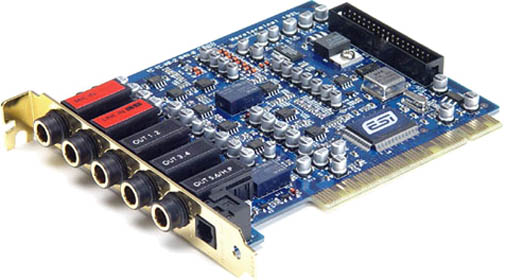 The Waveterminal 192L is perfect for those ready to make the commitment to making higher quality digital recordings in a home studio environment.
Waveterminal 192L's 2-in/8-out design features 24-bit/96kHz S/PDIF stereo optical digital output, 24-bit/96kHz A/D converter and 24bit/192kHz D/A converter for analog I/O with 100 dB dynamic range. Other features include: stereo analog line inputs, mono microphone preamp with 12V DC phantom power, headphone amp output, and full duplex (simultaneous record/playback) capability. Among the standard features are simultaneous record/playback and support for Dolby Digital 5.1 and DTS 5.1 surround formats.
Utilizing ESI's EWDM driver technology, Waveterminal 192L achieves ultra low latency with excellent performance and stability in all recording situations and offers perfect compatibility with all common modern audio applications by supporting all important professional audio formats like ASIO and GSIF or even common DVD surround formats used for home entertainment.
The optical and coaxial digital outputs support AC3/DTS pass through for digital decoders and AV amps.
The optional MI/ODI/O extension provides a full MIDI interface as well as a digital input.
Features
24-bit 96kHz AD-converter, 100 dB dynamic range
24-bit 192kHz DA-converter, 104 dB dynamic range
3x stereo +4dBu analog 1/4" (unbalanced)
3x stereo +4dBu analog 1/4" (unbalanced)
24-bit 96 kHz S/PDIF digital output (optical)
microphone preamp with +12V phantom power
1 headphone amplifier
supported sample rates: 32, 44.1, 48, 88.2, 176.4, 192kHz
full duplex simultaneous recording/ playback
EWDM driver support for Windows 98SE/ME/2000/XP/Vista/7 incl. ASIO 2.0 and GSIF
DirectWIRE for internal recording
support for Mac OS X 10.2 and newer













More about Waveterminal 192L