Realphones ESI Edition
Make the world your control room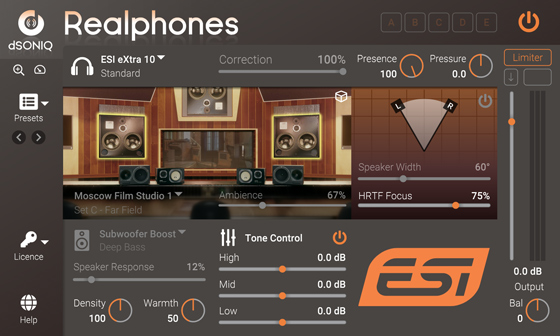 dSONIQ Realphones re-creates the acoustic environment of a recording studio control room in your headphones and corrects their frequency response. With Realphones, your headphones will turn into a reliable monitoring tool for mixing tracks, no matter where you are.
The Realphones ESI Edition has been optimized for your eXtra 10 and helps you get the maximum out of your studio monitoring headphones - a license of the software is included with the headphones and with our U22 XT cosMik Set.
>>> Get your serial code and free download! <<<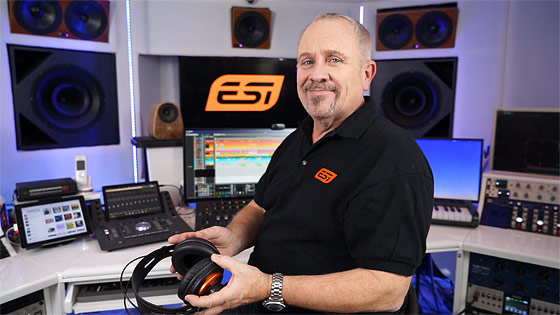 What's the benefit of the Realphones ESI Edition?
You need to get your mix ready in time, but you're on the road, far away from your control room? Then it's time to turn your headphones into a professional mixing workspace!
The custom-made eXtra 10 profile inside the Realphones software enables you to achieve a neutral, linear sounding result.
Binaural virtual positioning based on HRTF allows you to listen to your mix in almost the same way as if you were listening to it on speakers.
It even helps you checking your final mix: a single mouse click is all it takes to make your eXtra 10 sound like hi-fi speakers, like ear pods or like a portable device. So thanks to the software, you can check your mix without even taking off your headphones.
The dSONIQ Realphones ESI Edition has been perfectly adapted to the physical conditions of the eXtra 10 headphones. Be sure to get your Realphones ESI Edition for free today!
Make the world your control room!
More Information

Realphones ESI Edition is available in these formats: DAW plugins VST (Win, Mac), VST3 (Win, Mac), AU (Mac), AAX (Win, Mac) and as a standalone apllication. The system requirements are Mac OS X 10.9 or Windows 7 and newer.
Get your serial code and download Realphones ESI Edition
To get your serial code and to download the Realphones ESI Edition, you need to send us your production serial number of your eXtra 10 or your U22 XT cosMik Set. The production serial number can be found on the outside of the product packaging and has the format Kxxxxxxxxxxx or Rxxxxxxxxxxx - i.e. the letter K or R followed by 11 digits.
I don't have a serial number. What can I do?
Don't worry, if you do not have your serial number available or if you cannot find it, you can also send us a document that shows that you have purchased an eXtra 10 or an U22 XT cosMik Set (i.e. your invoice / receipt).
By submitting this form, you agree that we use your data to respond to your enquiry (please check our Privacy Policy for more info).