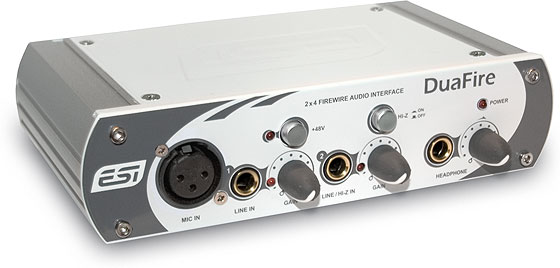 The DuaFire is the world's first FireWire audio interface that perfectly supports EWDM technology.
ESI finally adopted the famous EWDM technology to a FireWire Audio interface. Now you can use driver interfaces like ASIO 2.0, GSIF 2.0, MME and WDM simultaneously with the same features that made ESI's PCI audio interfaces famous. Of course, EWDM for FireWire also provides the DirectWIRE technology the virtual digital patchbay and support for very low latency values (as low as 1.5ms or even less).
DuaFire is an ideal mobile recording interface for both laptops and desktop computers. It's flexible inputs allow you to record from a variety of different sources. You can directly connect devices with line level, turntables via the built-in phono preamp, microphones (+48V phantom power support) and Hi-Z signals (e.g. a guitar).
Features

high-grade 24-bit/96kHz analog-digital-converter
high-grade 24-bit/96kHz digital-analog-converter
2 channels of audio input with level controls
microphone preamps and phantom power for XLR inputs (selectable)
Hi-Z input circuitry for guitar and other Hi-Z devices
selectable switch between line-level inputs phono pre-amps
4 line-level audio outputs on rear of unit
direct input monitoring with level control
bus powered via FireWire-Bus or with separate power supply unit (selectable)
support for DirectWIRE 3.0
supports EWDM driver: MME, ASIO 2.0, GSIF 2.0, DirectSound
CoreAudio devices for Mac OS X
Windows Vista, Windows XP, Mac OS 10.3.6 (and higher) compatible
1 headphone output with amp and volume control
world's first FireWire audio interface with EWDM driver support
bundled with Steinberg Cubase LE 4.0 for PC and Mac

FRONT

BACK









Reviews and Testimonials
| | | | | |
| --- | --- | --- | --- | --- |
| | The July 2008 issue of Sound on Sound features a review of DuaFire written by John Walden: "... the DuaFire is compact, sturdily built and offers perfectly respectable audio performance." - check the full review here. | | | |
| | | | | |
| --- | --- | --- | --- | --- |
| | The June 2008 issue of MusicTech Magazine (UK) features a review of DuaFire. Here are two quotes: "The mic preamp in the DuaFire is clean and quiet" / "Guitar parts recorded via the Hi-Z input were equally satisfactory" | | | |
| | | | | |
| --- | --- | --- | --- | --- |
| | DJ Mag (UK) had a look on our DuaFire FireWire audio interface in August 2008 and wrote: "Good sound and a massive range of connections." | | | |