Dr. DAC nano
High Quality USB DAC with optical S/PDIF output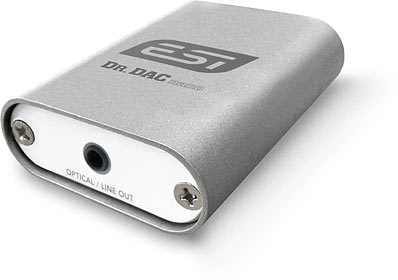 Dr. DAC nano provides 2 output channels via both analog and a digital optical S/PDIF connection.
The analog output features a high quality DAC that works with up to 24-bit/96kHz. The digital output features an optical miniplug connector.
Dr. DAC nano works under Windows XP, Windows Vista, Windows 7, Windows 8.1, Windows 10 as well as Mac OS X even without the installation of any driver software - perfect Plug & Play! Plus, in addition, we offer an ASIO 2.0 compatible driver as option for Windows XP, Vista, 7, 8.1 and 10.

Device Type

digital to analog converter
USB audio interface
optical S/PDIF transmitter
headphone amplifier

Key Specifications and Features

S/PDIF optical output via 3.5mm mini plug optical transmitter
16bit/24bit, 44.1kHz, 48kHz, 96kHz bit-perfect support
NON-PCM (Dolby Digital/dts) Pass Through support
AKM AK4421 192kHz 24-Bit Stereo DAC, 103dB dynamic range, analog playback support up to 24bit/96kHz from TE7022L I2S interface
Tenor TE7022L USB streaming audio controller with 12MHz USB Full Speed operation
Analog Devices AD8397 High Output Current Amplifier
16 ohm ~ 300 ohm headphone driving capability
combo S/PDIF & analog output jack / up to 24bit/96kHz output capable
Standard USB audio driver in Windows XP, Windows Vista, Windows 7, Windows 8.1, Mac OS X
Max. 3 Vrms analog output level
National Semiconductor LM2663M Switched Capacitor Voltage Converter
Precision +-5ppm 12.000MHz TCXO for lowest clock jitter
Low ESR Tantal capacitor
High quality 4 Layer PCB
USB bus powered operation
3.5mm Miniplug-Toslink optical converter included
dimensions: 60mm x 45mm x 17mm
ASIO 2.0 driver for Windows XP, Vista, 7, 8, 10 as optional download available

FRONT

BACK











Reviews and Testimonials
Here are selected reviews of Dr. DAC nano:
| | | | | |
| --- | --- | --- | --- | --- |
| | Composer Natalie Oram of Rockbarn Media about Dr. DAC nano: "With simple 'plug & play' operation the Dr. DAC nano provides us with an effective quality audio playback from the MacBook and is an essential part of our mobile set-up enabling us to continue working seamlessly and effectively in or out of our studios." | | | |
| | | | | |
| --- | --- | --- | --- | --- |
| | HiFi-Forum.de user bearmann created a detailed Review of our Dr. DAC nano - here is a quote: "As far as I know, there is currently no real competitor" - here you can find the complete review in German. | | | |
| | | | | |
| --- | --- | --- | --- | --- |
| | The website Headfonia is hosting a review of Dr. DAC nano written by user Mike: "Compared to the uDAC, I find that the Dr. DAC nano was able to portray the music better, in that the soundstage is bigger, the music sounds more open, ambience more real, and overall a more 'real' sound." - check it here. | | | |
If you are interested in adding a review to this list, do not hesitate and
contact us
.
More about Dr. DAC nano