MAYA44 MKII
4-in / 4-out PCI Audio Interface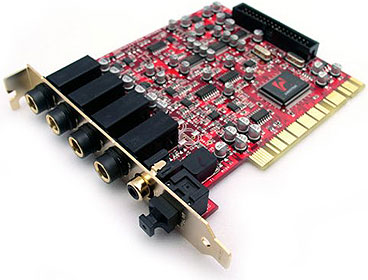 MAYA44 MKII is a total solution for today's high-resolution multi-track hard disk recording and playback. You would be amazed by its powerful and rich features MAYA44 MKII offers. MAYA44 MKII will satisfy beginners who just entering the world of digital audio, DJs using the PC audio systems, and music production professionals who produce music at his/her professional level with its power usage and reasonable budget.
As an evolution of the computer system continuously growing, a digital audio system now is much common in use. With MAYA44 MKII, you can make a complete set-up of a desktop music production system on your station very easily. MAYA44 MKII would be the center of your desktop music production system providing high quality of sound that can be compared to that of a professional studio, and a good guide to the world of digital pro audio music and multimedia market.
Inheriting all the favorable configuration of original MAYA44 PCI digital audio interface, now the revamped MAYA44 MKII has 24bit/96kHz real DAC and ADC, internal mixer (as well as DirectWIRE virtual router), and advanced control panel for precise level metering. The new MAYA44 MKII also supports MI/ODI/O optional add-on card for digital input and MIDI interface. With more powerful 120mW headphone amp and stable ICE controller chipset in the optimal design, MAYA44 MKII is still the most valuable digital audio interface for your desktop music production.
MAYA44 MKII has since been replaced by the new ESI version of MAYA44.
Features
Plug In with Analog Inputs (4) and Outputs (4)
24bit/96kHz D/A Converter and A/D Converter
Simultaneous Full-Duplex Recording and Playback
S/PDIF Coaxial and Optical Digital Outputs
Direct Monitoring for Input Signals (Zero Latency, by Hardware)
Built-in Internal 4 Channel Digital Mixer
Microphone Preamp with Phantom Power (+12V)
Headphone Amplifier (125 mW @ 32 Ohm)
EWDM driver supporting ASIO/MME/WDM/GSIF/DirectWIRE
optional expansion MI/ODI/O (Digital Audio and MIDI interface)









More about MAYA44 MKII