MAYA EX
2-in / 6-out USB Audio Solution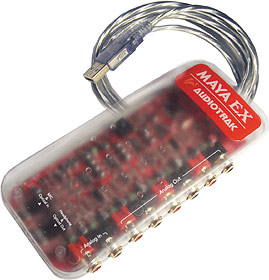 The MAYA EX is a 2 In and 6 Out analog USB audio interface with S/PDIF optical In/Out, MIC input and headphone output. It is simple to use, portable, and fast in processing. The MAYA EX can be used with your digital audio recording software to playback digital audio source with exceptional audio quality.
Turn your PC or notebook into a home-theatre system with MAYA EX with enhanced 5.1ch software. When using WinDVD 4.0, WinDVD 3.2, PowerDVD 4.0 for XP, it finely supports Dolby Digital/AC3, DTS, and Dolby Pro-Logic II with no additional decoder. Your speaker configuration will play back perfect 5.1 surround sound and get you immersed into the fantastic world of DVD sound.
Analog 2 In / 6 Out RCA ports: The MAYA EX provides 2 In plus 6 Out of 24 k gold plated RCA analog ports for recording and playing back multiple tracks of popular software synths and samplers.
Independent Headphone Output: MAYA EX has one additional Headphone out connector (Philips TDA1308 headphone driver) offering about 2x 60mW high quality power.
Optical S/PDIF Input/Output: With an emphasis on versatility, you can now connect your PC or notebook to most digital entertainment devices such as DVD players, CD, MD and MP3 players, stereo and multi channel speakers, headphones and more. MAYA EX allows you to record digital sound to MiniDisk (MD) and input sound coming from CD thru the optical port. MAYA EX also expands your PC to serve as Digital Audio Workstation which connects DAT, Play Station II, and more.
MIC IN/Line IN: MAYA EX adopts a built-in MIC preamp (Dynamic MIC & Condenser 5V-PC use headset) and lets you connect a microphone as well as Line In directly to the USB device. Also, the Full-duplex function allows the use for internet phone software for vivid tele-communication.
Quick Installation with USB: MAYA EX is designed to be connected to the standard USB port. Forget the hassle of opening the PC case, and simply plug the MAYA EX into any available USB port on your Notebook, Slim PC, HTPC, or Desktop. Don't worry about driver updates anymore. MAYA EX uses the Microsoft standard driver, so there is no need to install any additional drivers for Windows 98SE/ME/2000/XP. Connect your speakers, load the MAYA EX and enjoy a fantastic music listening experience!
Portable Design: The MAYA EX's compact design allows you to take your project on the road anywhere and everywhere you want to go. Easy to install, simple to operate. Just plug the MAYA EX into your computer and the other end into devices such as a recorder or mixer and you're set to go.
MAYA EX has since been replaced by MAYA EX5 CE.
Features

Interface: USB Spec Ver1.1, USB Audio Class Spec Ver 1.0
Input Type: Analog 2 Channel Input (RCA jack, 24k gold plated); Microphone Input (Multimedia Mic, 3.5 mm jack) including Microphone Amp; S/PDIF Digital 2 Channel Input (mini optical TOS-LINK connector); Mic In and S/PDIF In on dual-function connector
Output Type: Analog 6 Channel Output (RCA jack, 24k gold plated); Digital 2 Channel Output (mini optical TOS-LINK connector); Headphone Stereo Output (3.5 mm jack) including Headphone Amp; Headphone Out and S/PDIF Out on dual-function connector
AC3/ DTS pass thru
Sampling Rate: 48 kHz
Resolution: 16 Bits
Power: USB Bus powered
WDM driver support for Windows 98SE, Windows ME, Windows 2000 and Windows XP

PRODUCT PACKAGE







More about MAYA EX