MAYA EX5
2-in / 6-out USB Audio Solution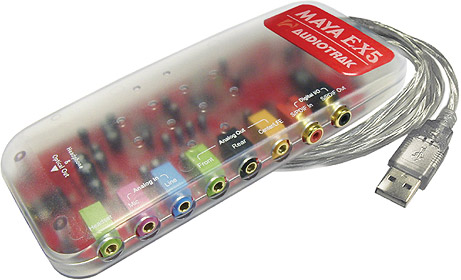 With a simple USB connection, the MAYA EX5 instantly adds a high fidelity, multi-connection audio interface with 5.1-surround sound to your PC. The MAYA EX5 is equipped with 6 output channels(3.5mm jacks) and 2 input channels(3.5mm jacks) along with S/PDIF Coaxial digital inputs/outputs and Optical Outputs. Microphone, headphone and headset jacks are also included to complete this fully functional portable audio solution.
You can enjoy Hollywood movies on your notebook computer with 5.1 theatrical surround sound. Or listen to MP3s and other stereo music in a virtual surround sound environment with up to 5.1 channels of surround sound.
For DJs, MAYA EX5 makes a great companion for DJ software like PCDJ and BPM studio. The MAYA EX5 also plays back multiple tracks of audio from popular software synthesizers and samplers.
The MAYA EX5 is the ideal portable audio solution for audiophiles, DVD enthusiasts, musicians, and DJs. MAYA EX5's compact design and USB connectivity lets you take your high-quality, multi-channel audio project on the road, or remain stationed at your desktop PC.
MAYA EX5 has since been replaced by MAYA EX5 CE.
Features
Interface: Full Speed USB (USB 1.1 compatible)
Analog Inputs
Type: 2 Channel Analog line inputs (3.5mm Jack)
Level: -10dBV Unbalanced, -10dBV Nominal, +6dBV Maximum
Impedance: 10K Ohm
Analog Outputs
Type: 6 Channel Analog line outputs(3.5mm Jack)
Level: -10dBV Unbalanced, -10dBV Nominal, +0dBV Maximum
Impedance: 100 Ohm
Microphone Preamplifier
Gain: +40dB Fix
Impedance: 10K ohm
Headphone Output
Type: 3.5mm Mini Phone Jack
Output Power: 60mW Max
Signal to Noise Ratio: 110dB (Typical)
(THD+N)/S: -70dB, 0.03% (Typical)
Headset Connector (3.5mm Jack)
Sample Rate support: 48 kHz
Bits Resolution: 16-bit
Digital I/O
Type: Coaxial input & Output Connector
Type: Mini Optical Output Connector (TOS- LINk)
Format: IEC-958 Consumer (S/PDIF)
Sampling Rate: 48 kHz
Bit Resolution: 16 bit
A/D Converter
Dynamic Range(S/N): 91 dB A-Weighted (Typical)
Frequency Response: 20 ~ 20KHz
Resolution: 18 Bit
D/A Converter
Dynamic Range (S/N): 88 dB A-Weighted (Typical)
Frequency Response: 20 ~ 20KHz (@ fs=48kHz)
Resolution: 18 Bit







More about MAYA EX5