MAYA EX7
8-out USB Audio Solution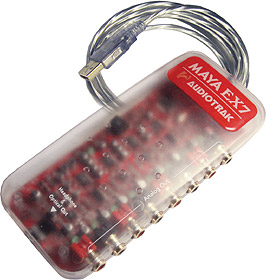 MAYA EX7 is the world's first USB soundcard with 7.1 channel support. Being connected to a standard USB interface of your laptop or desktop PC, it is ready to offer eight individual analog outputs and supports S/PDIF digital optical out at up to 48 kHz and 16 bits.
Without any additional decoder or receiver, MAYA EX7 is able to act as a home surround system with Dolby Digital 5.1 and DTS 5.1 surround formats and is also ready to support DTS ES 6.1, and coming new 7.1 surround formats.
8 channels of analog outputs: The MAYA EX7 provides 8 channels of RCA analog outputs for playing back multiple tracks of popular software synthesizers and samplers. All 8 channels have an individual green LED for displaying the output signals.
S/PDIF optical output and headphone output: MAYA EX7 also provides an optical output or a headphone output on a dual-function connector. This connector is mirrored from the analog Output 1,2 (MAIN) of the MAYA EX7.
Perfect match for software DVD player: MAYA EX7?s 8 analog outputs fully support software DVD players like WinDVD or PowerDVD.
Compatible with DJ mixing software: MAYA EX7?s 4 pairs of analog stereo outputs are compatible with DJ mixing software like PCDJ and BPM Studio Pro.
Portable design: The MAYA EX7?s compact design allows you to take your project on the road anywhere and everywhere you want to go. Also, with its semitransparent case the MAYA EX7 looks just great!
Easy to install, simple to operate: Just plug the MAYA EX7 into your computer and the other end into devices such as a recorder or mixer and you?re set to go.
Flexible Windows support: MAYA EX7 works directly with Windows XP, Windows 2000 and Windows 98SE. There is no need to install any specific driver.
MAYA EX7 has since been replaced by GIGAPort AG.
Features

Interface: USB Spec Ver1.1, USB Audio Class Spec Ver 1.0
Output Type: Analog 8 Channel Output (RCA Jack); Digital 2 Channel Output (mini optical TOS-LINK connector); Headphone Stereo Output (3.5 mm jack)
Sampling Rate: 32 kHz, 44.1 kHz, 48 kHz
Resolution: 16 Bits
Power: USB Bus powered
WDM driver support for Windows 98SE, Windows 2000 and Windows XP (Note: Windows ME is not supported)

PRODUCT PACKAGE






More about MAYA EX7