Prodigy 192
24-bit / 192 kHz High Quality 7.1 Surround Soundcard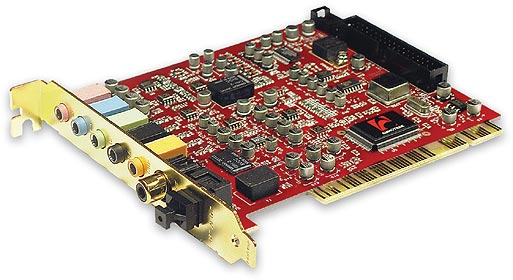 Prodigy 192's 2-in/8-out design features 24-bit/96kHz S/PDIF Optical digital output and Coaxial digital output, 24-bit/96kHz A/D converter and 24-bit/192kHz D/A converter for analog I/O with 104 dB dynamic range. Other features include: stereo analog line inputs, mono multimedia microphone preamp with +5V phantom power, headphone amp output, and full duplex (simultaneous record/playback) capability.
The optional MI/ODI/O add-on card, which is sold separately, expands the Prodigy 192's capabilities with S/PIDIF optical (TosLink) input and coaxial I/O, along with a 1-in/1-out MIDI interface.
The Prodigy 192 offers complete compatibility with Dolby Digital 5.1 and DTS 5.1 surround formats. Used with a software DVD Player, you've got a full-blown 5.1 home theater system.
The Prodigy 192 supports the DirectWIRE? function that is provided by EWDM supported products from AUDIOTRAK. This unique feature will simplify the hassles of wiring externally for inter-driver/inter-application audio data transfer. Especially when you use software synthesizers or virtual instrument, DirectWIRE will help you to simplify your setup.
The Prodigy 192 supports the EWDM driver for perfect compatibility with Windows XP, 2000, ME and 98SE offering ultra low-latency performance with all popular digital audio software applications including Nuendo, Cubase, GigaStudio, Cakewalk, Sonar and Logic.
Prodigy 192 is no longer available and has been replaced by the Prodigy 7.1 HiFi.
Features
High quality 24bit 96kHz A/D converter; 100dB Dynamic range
High quality 24bit 192kHz D/A converter; 104dB Dynamic range
Analog 2 In / 6 Out with -10dBV unbalanced 1/8"(3.5 mm) Mono and stereo input and 3 x stereo -10dBV unbalanced 1/8"(3.5 mm) outputs
2 channels recording and 8 channels playback at the same time
24bit 96kHz Optical out and Coaxial out
Supports multiple Sampling Rates: 16, 22, 24, 32, 44.1, 48, 88.2, 96, 176.4, 192kHz (176.4, 192kHz : playback only)
Full Duplex - Simultaneous Record/Playback
Uses 32bit PCI slot: PCI Bus-Mastering support
MIC preamp with +5V Phantom Power
Headphone amp
DirectWIRE? Audiorouting
EWDM drivers for Windows 98 SE, Windows ME, Windows 2000 and Windows XP and support for Multiple MME, Multiple DirectSound, ASIO 2.0 and GigaStudio, Direct KS support for SONAR









More about Prodigy 192