Prodigy 7.1
192 kHz 7.1 Multimedia Audio Interface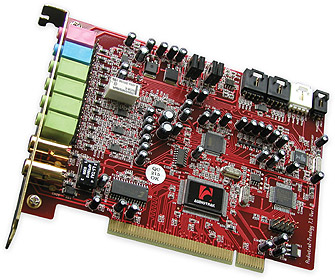 Prodigy 7.1 is the ultimate PCI audio upgrade for those who are ready to achieve the highest quality digital playback and maximum surround sound experience in today's multimedia environment. Prodigy 7.1's 2 analog inputs and 8 (4 x stereo) outputs feature 24-bit 192 kHz D/A converters and 24-bit 96 kHz A/D converters for analog I/O with 106 dB dynamic range plus 24-bit 96 kHz coaxial input and output connectors.
Connecting to the Prodigy 7.1 offers an array of options including stereo analog line inputs, a microphone preamp with +5V phantom power, an amplified headphone output and full duplex simultaneous record and playback capability.
Prodigy 7.1 offers complete compatibility with Dolby Digital and DTS surround sound formats. When paired with the included software DVD player, a complete 7.1 home theater surround sound system is created.
Prodigy 7.1 supports Advanced NSP (Native Sound Processing) technology that takes advantage of the EWDM drivers and DirectWire. The EWDM drivers support Prodigy 7.1 for perfect compatibility with Windows XP, 2000, ME and 98SE while offering ultra low latency performance with all popular music production applications including Nuendo, Cubase, Cakewalk, Sonar, and Logic. There is also full DirectWIRE and GSIF support available.
Prodigy 7.1 is the ultimate PC audio upgrade solution for gamers, DVD movie fans, music lovers, DJs, and even for professional musicians.
Prodigy 7.1 is no longer available and has been replaced by the Prodigy 7.1 HiFi.
Features

high-fidelity 24bit 192 kHz D/A converter; 106dB dynamic range
high-fidelity 24bit 96kHz A/D converter; 102dB dynamic range
24bit 96 kHz digital coaxial input and output
analog 2 in / 8 out; -10dBV unbalanced 1/8" (3.5mm) mono and stereo input and 4 x stereo -10dBV unbalanced 1/8" (3.5mm) output
2 channel recording and 8 channel playback at the same time
supports multiple sampling rates: 44.1 kHz up to 192 kHz
Full Duplex - simultaneous record / playback
uses 32bit PCI slot: PCI bus-mastering support
microphone preamp with +5V phantom power
headphone amplifier
supports EWDM driver: WDM and ASIO 2.0, Direct KS support for SONAR
OS: Microsoft Windows Vista/XP/2000/ME/98SE

PRODUCT PACKAGE










More about Prodigy 7.1