Confirmation of Privacy Policy
Please note that some functions of this website require you to agree to the terms and conditions that are outlined in our privacy policy. Until then, this message will be displayed from time to time. With your consent, you also agree to the use of cookies. Additionally, by using this website, you accept that non-personalized log and tracking information from accessing our website can be saved and processed according to our privacy policy.
UGM96
Ultra Mobile Guitar / Microphone USB Audio Adapter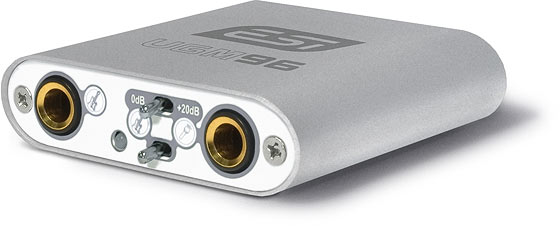 The new UGM96 is the most portable audio interface with this feature set on the market.
Even smaller than our new U24 XL, UGM96 offers an ultra mobile guitar and microphone to USB interface that allows you to connect two guitars (via the Hi-Z instrument inputs) or one guitar and one microphone simultaneously to your PC or Mac.
The backside offers a stereo output that you can use for monitoring, i.e. with headphones. This makes UGM96 the perfect companion for guitar recording applications on the road or in your studio. You can use it to jam with a guitar and microphone, process the signal with your PC or Mac notebook or desktop in realtime and listen to the mix directly via headphones - no special adapters or extra power supplies are needed, you simply plug UGM96 between your guitar, headphones, the microphone and your computer. It's unbelievable how much functions are provided by this small stylish device.
Features

2 analog input and 2 analog output channels
2 independent mono Hi-Z inputs
one Hi-Z input switchable to microphone input with preamp
2 headphone output
one headphone output can work as line output
fully USB bus powered
drivers for Windows 10/8.1/8/7/Vista/XP with ASIO support with low latency
Core Audio support under Mac OS X 10.4 and higher
dimensions: around 7 cm x 6 cm

FRONT

BACK











Bundled Software
In order to get you started right out of the box, UGM96 ships with a powerful software package for professional recording, creation of your own songs, mixing of any audio content and much more. The following applications are currently included:
| | | | | |
| --- | --- | --- | --- | --- |
| | | | inTone 2 ESI Edition by Audified is a powerful jamming tool to produce mixes of multiple audio signals and instruments, play files, change tracks, prepare streams for podcasts and recordings. As an effects host you can use it with the included GK Amplification 2 LE and ampLion Free as a bass and guitar amp simulator and much more - anything you need for your creativity! | |
| | | | | |
| --- | --- | --- | --- | --- |
| | | | Deckadance LE v2 from Stanton - a powerful professional DJ software that continues to elevate the freedom of creative expression for remix and groove producers, turntablists as well as club, mobile and home DJs. With the included license, you can quickly load your favorite tracks and instantly mix them like a professional DJ through the outputs of UGM96. | |
Our website always shows the latest information on what we currently ship with our products. Depending on the production date, it can sometimes be possible that a different software package is included with the UGM96 at a local reseller. The actual content is mentioned on the retail box of the product itself. If you are unsure, please contact us.
Reviews and Testimonials
Here are selected reviews of UGM96:
| | | | | |
| --- | --- | --- | --- | --- |
| | Issue 7/2009 UK's Computer Music magazine features a short review of our UGM96. Here is a quote: "Overall, this is a good package for guitarists looking to save space and/or money" | | | |
| | | | | |
| --- | --- | --- | --- | --- |
| | The issue 07/2010 of KEYS (Germany) features a detailed review of UGM96 by Ulf Kaiser. Beside recomending it for it's price, he was impressed by the compact size: "UGM96 recomends itself as a convenient helper for mobile use." | | | |
| | | | | |
| --- | --- | --- | --- | --- |
| | The guys from mmag.ru (MusicMag) in Russia prepared a detailed video review of UGM96 - check the full video in russian language here! | | | |
If you are interested in adding a review to this list, do not hesitate and
contact us
.
More about UGM96