Prodigy 7.1 LT
Low Profile 7.1 Multimedia Soundcard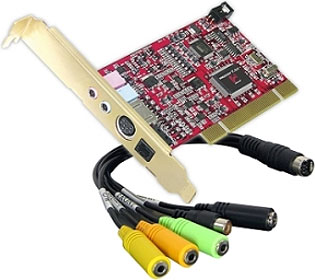 The Prodigy 7.1 LT, providing broad compatibility, supports not only a standard/desktop PC, but also a slim PC and a bare-bone PC by providing an additional Low-Profile mounting bracket. PCI-X (3.3V) slots are also supported. The Prodigy 7.1 LT overcomes the lack of printed circuit board surface by using a G9 connector for the 24-bit 192kHz analog and digital outputs. This solution differs from other slim-sized sound cards, which tend to use multi-purpose (so-called versa-jacks) connectors and an additional bracket for digital I/O - this could reduce audio quality.
The Prodigy 7.1 LT with the VIA ICE172x controller chip (ENVY24xT) supports 24-bit 192kHz Audio Output / 24-bit 96kHz Input, and a professional degree of audio playback and recording capabilities. Without the need to connect an additional I/O bracket, the Prodigy 7.1 LT can be connected to a DAT, MD, A/V receiver and speakers using high fidelity Optical (24-bit/96kHz) and Coaxial (24-bit/192kHz) connectors. The Prodigy 7.1 LT uses the Wolfson WM8770 8 channel CODEC (24bit/192kHz) and analog circuits for each output designed using the gathered knowledge of ESI, so you can experience clear sound with low noise (ADC 24bit / 96kHz). The broad frequency range (22~192 kHz) together with bit-to-bit accuracy make the sound clear. Prodigy 7.1 LT reduces noises as much as possible by removing the AC97 codec from the design and connecting the microphone input directly to a 24-bit/96kHz codec. In spite of a small PCB board, its stability and endurance is more than a professional sound card?s level, with tantalum capacitors, Low Profile and high-quality parts which high-priced sound cards use. Anti-Pop circuitry has been added to eliminate the pops heard when turning the system on/off, caused by power spikes. The Prodigy 7.1 LT's Built-in headphone amp is strong enough to bring you the best quality headphone output. The headphone output jack is shared with the analog output 7 and 8 jack, so 5.1 channel speakers and headphones can be used simultaneously. Since the Prodigy 7.1 LT supports direct monitoring, you can use this feature to monitor the sound through headphones while recording, with zero latency.
Using the DirectWIRE feature, the Prodigy 7.1 LT can route sound data without passing it through the ADC/DAC or the internal mixer, thus avoiding quality degradation, which would occur on a typical sound card. We use a patented 3D sound technology of the QSOUND research institute in Canada, the most prominent figure in the world of 3D Sounds. In general, other sound cards using QSOUND support only Q3D (for DirectSound3D and EAX support). In addition, the Prodigy 7.1 LT supports not only QMSS for upmixing 2 channel sound into 5.1, QRumble for a dynamic low tone realization, QSizzle for extending high tones but also the existing QSOUND technologies like QEQ and QNomalize so that we can experience best sound in the world. Especially while listening to music through 5.1 channel speakers you will be amazed by the power of QMSS.
Prodigy 7.1 LT is no longer available and has been replaced by the Prodigy 7.1 HiFi (which is not a Low Profile solution however). If you are searching for a Low Profile PCI card (3.3V/5V), the Prodigy HD2 is the answer.
Features


Analog Inputs

Type of Line-In (+ mix in) : 3.5 mm mini phone jack
Level of Line-in: -10dBV unbalanced, -10dBV nominal, 8dBV Max(gain +0 db)
Impedance : 10k Ohm

Analog Ouputs

Connector Type : 8channel analog line-out (3.5 mm mini phone jack)
Level of Line-in: -10dBV unbalanced, -10dBV nominal, 8dBV Max(gain +0 db)
Impedance : 100 ohms
Attenuation Control : Digital 0dB?-96dB with mute, 0.75 step size

Mic Preamplifier

Sensitivity : 127mV Max
Gain adjustment : +20dB Fix and 0dB ~ 22.5dB
Variable(1.5dB Step Size)
Impedance : 2K ohm
+5V power supply, condenser and dynamic MIC

Sampling Rate Support: 16, 22, 24, 32, 44.1, 48, 88.2, 96, 176.4, 192kHz

A/D Converter

Dynamic Range : 102 dB A-Weighted (Typical)
the characteristics of frequency : 20 ~ 22.5kHz (@ fs=48kHz)
sampling rate : ~ 96kHz
Resolution : 24bit
input gain control : 0.5dB

D/A Converter

Dynamic Range (S/N) : 106 dB A-Weighted (Typical)
The characteristics of frequency : 20 ~ 22.5kHz (@ fs=48kHz)
Sampling rate : ~ 192kHz
Resolution : 24bit
Input gain control : 0.5dB

Digital specification

Type : coaxial port, optical port (24-Bit/ 96kHz)
Format : IEC-958Consumer(S/PDIF)
Sampling rate : 32, 44.1, 48, 88.2, 96, 176.4, 192kHz

Headphone Amp specification

Output : 120mW Max
S/N ratio: 110dB (Typical)
(THD+N)/S : -70dB, 0.03% (Typical)

EAX, ASIO, GSIF, WDM, DirectWIRE 3.0 driver support by EWDM



PRODUCT PACKAGE







More about Prodigy 7.1 LT