SW10K eXperience
Powered Studio Monitoring Subwoofer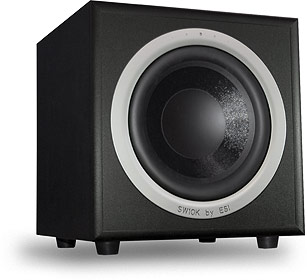 A subwoofer is an essential ingredient for many monitoring setups. Although many studio monitors such as our nEar04, nEar06, nEar05 eXperience or nEar08 eXperience provide sufficient bass frequency response, adding a SW10K eXperience subwoofer will help you to provide a better picture of the low frequencies in your mix. Wheather you are producing classical 2.1 sound or 5.1 / 7.1 surround sound productions, SW10K eXperience will easily become an important part of your monitoring setup. It's compact size (even smaller than its predecessor), yet powerful output will easily convince you. Please note that SW10K eXperience is no longer in production and has since been replaced by the newer aktiv 10s.
Features

10" bass reflex powered subwoofer
amplifier power: 100W@100Hz, 4 Ohm, 0.1% THD
subwoofer crossover frequency: 50Hz - 250Hz (adjustable)
separate satellite output crossover frequency: 50Hz - 250Hz (adjustable)
phase control
inputs: balanced XLR, unbalanced 1/4" TRS
outputs: balanced XLR
input impedance: 20kOhm balanced, 10kOhm unbalanced
foot switch input as mute control
dimensions: 363mm(H) x 375mm(W) x 340mm(D)
weight: ca. 15 kg

BACK
Reviews and Testimonials
Here are selected reviews of SW10K eXperience:
| | | | | |
| --- | --- | --- | --- | --- |
| | Eckhard Kuchenbecker runs YourSounds, the extensive online library of professionally recorded and mastered sounds. He uses 5 uniK 05 with SW10K eXperience - "I am often giving my impression of the system to others as a recommendation for film-, audio- and other media-editing environments - an interesting, affordable and high quality solution!" | | | |
| | | | | |
| --- | --- | --- | --- | --- |
| | In May 2012 drumXound (Germany) checked our SW10K eXperience - their verdict:"The ESI SW10K provides exactly what we wanted: a dry articulated sound image." - read the full german language review here! | | | |
If you are interested in adding a review to this list, do not hesitate and
contact us
.
More about SW10K eXperience